Access Bars Healing is a unique and potent energy healing modality that has been gaining popularity in recent years. Founded by Gary Douglas in the 1990s, Access Bars offers a transformative approach to holistic wellness, promoting relaxation, stress reduction, and personal growth. This hands-on therapy involves gently touching 32 points on the head, which correspond to different areas of life. As these points are gently stimulated, they release stored electromagnetic charges, allowing for the release of limiting beliefs, negative emotions, and mental patterns.
Access Bars Healing is rooted in the understanding that the human body is an energetic system, and every thought, belief, and experience is stored as energy in the body. When we experience stress, trauma, or negative emotions, these energies can become trapped within us, leading to imbalances and blockages in our physical, emotional, and mental well-being.
Book a Consultation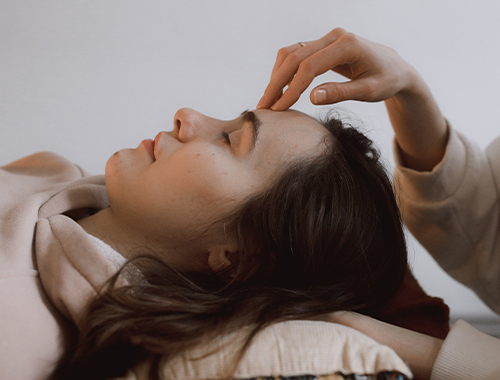 The 32 points on the head, known as "Bars," are related to different aspects of life, including healing, body, control, awareness, creativity, power, ageing, money, communication, and more.
By lightly touching these Bars, the practitioner facilitates energy flow and dissipates the electromagnetic charges associated with various thoughts and emotions. This process allows for the release of limitations, allowing individuals to gain greater clarity, relaxation, and openness to new possibilities.
Book a Consultation
How Access Bars Healing Works
Access Bars Healing is a non-invasive and gentle modality trained facilitators can practise. During a session, the client lies comfortably on a massage table, fully clothed, while the healer gently touches and holds specific points on their head. The touch is soft, and many clients find it deeply relaxing, often experiencing a sense of calm and peace during the session.
As the Bars are activated, the electromagnetic charge is released, which can feel like undoing knots in a rope or melting away tension in the body and mind. This process encourages a state of deep relaxation, allowing the brainwaves to slow down, similar to the state experienced during meditation. In this relaxed state, the mind can let go of limiting beliefs and open up to new perspectives and possibilities.
Benefits of Access Bars Healing
Stress Reduction

Access Bars Healing helps to reduce stress and anxiety, promoting a sense of calm and relaxation. It can benefit individuals dealing with high-stress environments or challenging life situations.

Mental Clarity

By releasing energetic blockages and limiting beliefs, Access Bars can enhance mental clarity and focus, allowing individuals to make better decisions and overcome mental fog.

Emotional Release

Access Bars facilitates the release of stored emotions and past traumas, helping individuals to let go of emotional baggage and experience emotional healing.

Improved Sleep

Many clients report improved sleep patterns and a sense of deep restfulness following an Access Bars session.

Enhanced Creativity

As limiting beliefs are released, individuals often find their creative energy flowing more freely, leading to increased inspiration and new ideas.

Greater Awareness

Access Bars can expand consciousness and increase self-awareness, allowing individuals to gain insights into their behaviours, thoughts, and patterns.

Physical Benefits

Some individuals experience relief from physical discomfort and improved well-being after Access Bars sessions.
Access Bars Healing and Personal Transformation
TOne of the most profound aspects of Access Bars Healing is its potential to facilitate personal transformation.
By releasing old patterns, beliefs, and conditioning, individuals can step into a more empowered version of themselves and move ahead with positive changes in their lives.
Access Bars is not a therapy that provides quick fixes; rather, it is a tool that empowers individuals to take responsibility for their own growth and healing. Regular sessions can assist in breaking free from limitations, allowing for greater self-awareness, emotional well-being, and spiritual connection.
Furthermore, Access Bars Healing can complement other healing modalities and therapies. Combined with meditation, yoga, counselling, or energy work, it can enhance their effectiveness and support the individual on their journey to wholeness.
Conclusion
Access Bars Healing offers a powerful and accessible pathway to balance, healing, and personal transformation. This modality can release energetic blockages by gently activating the 32 Bars on the head, allowing individuals to experience greater relaxation, mental clarity, emotional release, and spiritual awareness.
Whether seeking stress reduction, emotional healing, improved sleep, or enhanced creativity, Access Bars Healing provides a nurturing and non-invasive approach to holistic well-being.
As individuals let go of old patterns and limiting beliefs, they can step into a new chapter of life filled with possibilities, empowerment, and self-discovery.
Suppose you're on a journey of self-exploration and transformation. In that case, Access Bars Healing may be a valuable addition to your toolkit, guiding you towards greater balance and alignment in all aspects of your life. Embrace the energy of change, and unlock the door to a more fulfilling and joyful existence through Access Bars Healing.
Book a Consultation