Tapping into our true potential becomes paramount in a world that constantly seeks ways to improve and excel. The Power of Infinity Training is an innovative approach that aims to unlock the vast reservoirs of untapped potential within each individual. Drawing inspiration from the concept of infinity, this training method explores the boundless possibilities of personal growth and transformation. Here, we will delve into the principles and techniques of Infinity Training, its benefits, and how it empowers each individual to reach new heights in their personal and professional lives.
Book a Consultation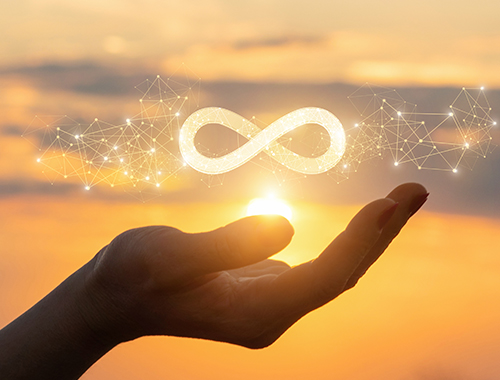 Understanding Infinity Training
Infinity Training is a holistic approach to self-development that embraces the idea of limitless possibilities. Rooted in the belief that individuals possess vast untapped potential, this training methodology seeks to break free from limiting beliefs and embrace the notion that our growth is infinite. By recognizing that there are no boundaries to what we can achieve, Infinity Training helps individuals overcome self-imposed limitations and reach new levels of success and fulfilment.
Book a Consultation
The core principles of Infinity Training are
Expanding Consciousness

Infinity Training encourages individuals to expand their consciousness beyond conventional thinking and self-imposed limitations. By embracing a growth mindset, participants become open to exploring new ideas, embracing challenges, and embracing change as opportunities for growth.

Embracing Resilience

The journey to harnessing the Power of Infinity requires resilience. Participants learn to view setbacks as temporary hurdles rather than permanent roadblocks and develop the ability to bounce back stronger and wiser.

Cultivating Self-Awareness

Self-awareness is crucial for recognizing one's strengths, weaknesses, and areas for improvement. Infinity Training promotes introspection and self-reflection to understand one's true potential better.

Fostering a Supportive Community

A supportive community plays a vital role in the quest for personal growth. Infinity Training often involves group dynamics, where participants encourage and inspire each other on their transformative journeys.
Training Techniques for Infinity Training
To embark on the path of Infinity Training and unleash one's infinite potential, individuals can explore various techniques and practices:
Mindfulness and Meditation

Practicing mindfulness and meditation is a cornerstone of Infinity Training. These techniques help individuals cultivate a calm and focused mind, enabling them to become more receptive to new ideas and self-discovery.

Goal Setting and Visualization

Setting clear, ambitious goals and visualizing their attainment is a powerful technique employed in Infinity Training. By envisioning success and aligning actions accordingly, individuals can break free from self-imposed limitations and tap into their infinite potential.

Positive Affirmations

Positive affirmations can rewire the subconscious mind, helping individuals build self-belief and counter negative self-talk. Affirmations like "I am capable of achieving anything I set my mind to" can boost confidence and unleash untapped potential.

Flow State Activation

Entering a state of flow, where individuals are fully immersed and energized by activity, is integral to Infinity Training. Flow states enhance productivity, creativity, and the overall experience of growth.

Continuous Learning and Growth

Embracing a lifelong learning mindset is central to Infinity Training. By seeking out new knowledge, skills, and experiences, individuals can constantly evolve and develop their potential.
Benefits of Infinity Training
Breakthrough in Limiting Beliefs

Infinity Training helps individuals identify and challenge limiting beliefs that hold them back from realizing their full potential. By breaking through these barriers, individuals can achieve previously unimaginable feats.

Enhanced Resilience

The journey of Infinity Training instils resilience, enabling individuals to bounce back from setbacks, setbacks, and failures with renewed determination.

Heightened Creativity

Embracing the Power of Infinity unlocks creativity and innovation. Individuals become more open to exploring unique solutions and thinking outside the box.

Improved Focus and Productivity

By cultivating mindfulness and flow states, Infinity Training enhances focus and productivity, leading to more efficient and effective work.

Personal Fulfillment

As individuals tap into their infinite potential, they experience a profound sense of fulfilment and purpose in their endeavours.
Unlock your limitless potential and embark on a transformative journey with the Power of Infinity Training. Break free from self-imposed constraints and embrace a growth mindset. Experience the profound impact of mindfulness, ambitious goal-setting, and resilience on your personal growth. Get ready to open yourself to a world of possibilities and achieve unprecedented levels of success and fulfilment in all aspects of life. Take advantage of this chance to explore the depths of your human potential and embark on the extraordinary journey of personal transformation. Start your journey now and unleash the power within you!