Angel card readings are a form of divination used for centuries to gain spiritual insight and guidance. By meditating and asking for advice from the angelic realm, you can receive messages through unique cards with beautifully illustrated images and powerful words. Angel card reading is a practice that helps to bring peace, understanding, and clarity into your life by providing answers to your questions, guidance in making important decisions, or simply offering comforting reassurance. Merging personal growth with more profound understanding and connection, angel cards offer an exciting way for people to connect with their higher power and engage in powerful self-discoveries.
Book a Consultation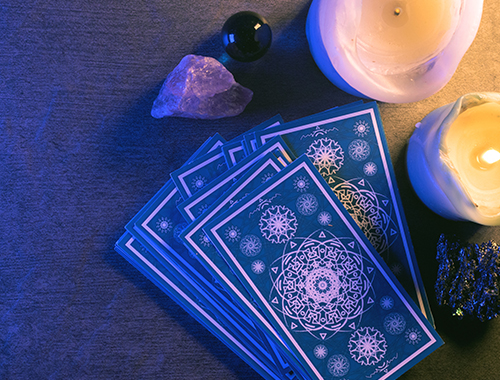 The cards will assist you in dealing with various issues in your life that may not be resolved yet.
The most powerful thing to note is that these energies are always present with you; you only need to be in touch with them. Focusing on the cards can help you realise the strength they have to offer. A gifted psychic is more sensitive and attuned to even more energies.
If you're feeling overwhelmed, know you are not alone. You are a beautiful individual, and I want you to know that. It may seem dark, but the light is there. It may be hard to see, but I urge you to keep pushing forward. It may be hard to see, but the light is there. It is always there for us.
You can gain illuminating answers about yourself, your relationships, and any situation or circumstance through an angel card reading. Asking questions and drawing angel cards is like having an intimate conversation with the Divine – the Angels will provide meaningful advice based on your most pressing needs.
Angel card readings offer deep spiritual insight into various areas such as health, finances, career paths and more. Working with the angelic realm allows you to gain clarity and make empowered decisions. A card reading session will help you to become more self-aware and open up possibilities that were not previously visible or accessible.
In addition to gaining greater insight into yourself, an angel card reading can provide a powerful healing experience. Through the comforting energy of the Angels, you may find peace and strength in times of challenge or difficulty. By connecting with your angels, you can learn how to navigate life's paths with courage and confidence.
Book a Consultation
Angel card reading can provide peace and clarity to those seeking it, allowing them to confidently navigate their personal lives with more purpose and direction.
It works in various factors like
Assist in uncovering and understanding patterns and cycles in one's life.
It promotes forgiveness and letting go of resentment or grudges.
Provide comfort and reassurance during times of grief or loss.
It fosters a sense of divine timing and trusts in life events unfolding.
Supports the exploration of the subconscious mind
Equip guidance and insight on manifesting desires and goals.
It enables a sense of guidance, protection, and support from the angelic realm.
It aids in releasing fears and insecurities that may be holding one back.
It aids in releasing fears and insecurities that may be holding one back.
It helps in embracing change and navigating life transitions with grace.
Angel cards can align healing practices with the highest good. Whether you're a seasoned healer or just starting, adding angel cards to your toolkit will undoubtedly enhance your practice and bring you closer to fulfilling your calling.
Supports in receiving messages and guidance from angelic beings and divine energies.
Assists a healer in identifying and addressing their energy blocks or emotional challenges.
It can provide validation and confirmation for a healer's intuitive insights and healing techniques.
It helps establish a strong spiritual foundation and grounding in their healing practice.
Guide healers in maintaining positive and uplifting energy during healing sessions.
It promotes a sense of gratitude and appreciation for healers' healing abilities and gifts.
It aids in receiving divine guidance on best serving and supporting their clients in their healing journeys.
Ultimately, an angel card reading aims to help you live a healthier and more fulfilled life. Expanding your awareness past the physical world and into the spiritual realm, you can gain powerful insights that will help guide your decisions in every aspect of your life. Through angelic guidance, you can heal old wounds and conflicts, tap into inner resources for personal growth, and transform challenges into opportunities for transformation. So no matter what journey you are on in life, keep an open heart and mind – because there's always potential assistance from the Angels' wise invisible hand awaiting you. You just need to be willing to connect with them.