Introduction
Emotional Freedom Technique (EFT), also known as Tapping, is a powerful and versatile healing modality now widely recognised for addressing emotional, physical, and psychological challenges. Developed in the 1990s by Gary Craig, EFT combines elements of traditional Chinese medicine, cognitive therapy, and acupressure.
It involves tapping on specific meridian points on the body while focusing on emotional or physical issues to release energetic blockages and promote healing.
Book a Consultation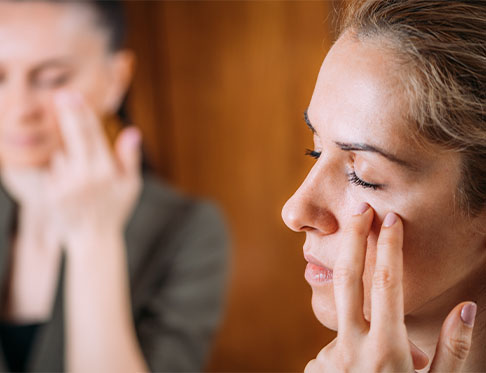 At the core of EFT lies the understanding that emotional and physical issues are often rooted in the body's energy system disruptions.
According to traditional Chinese medicine, when energy flow is blocked or imbalanced in the body, it can lead to various ailments and emotional distress. EFT aims to restore harmony in the energy system by tapping specific meridian points, pathways through which energy flows.
Book a Consultation
The Meridian System in EFT
The meridian system consists of a network of energy channels that traverse the body. In traditional Chinese medicine, these meridians are associated with specific organs and emotions.
EFT uses a simplified version of this system, focusing on nine key meridian points, including the top of the head, side of the eye, eyebrow, under the eye, under the nose, chin, collarbone, under the arm, and on the hand. By tapping these points, individuals can stimulate the energy flow and release emotional and physical blockages.
The EFT Tapping Process
The EFT tapping process involves a series of steps designed to address specific issues and emotions. Here's a general outline of the technique:
Identify the Issue

Begin by identifying the emotional or physical issue you want to address. It could be a specific fear, negative belief, trauma, pain, or any other emotional or physical challenge.

The Setup

During the setup, you acknowledge the issue while accepting and loving yourself. This is done by creating an "affirmation statement" that combines the issue with self-acceptance. For example, "Even though I feel anxious about singing in front of others, I deeply and completely love and accept myself."

The Sequence

The tapping sequence involves tapping on each of the nine meridian points while repeating the affirmation statement or stating the issue aloud. As you tap on each point, you focus on the issue and any emotions associated with it.

Check-in

After completing the tapping sequence, take a moment to check in with yourself and rate the intensity of the issue on a scale of 0 to 10. This allows you to track your progress and identify any remaining emotional charge.

Repeat as Needed

If the issue's intensity has not reached a satisfactory level, you can repeat the tapping process, adjusting the affirmation statement as necessary.
Benefits of the Emotional Freedom Technique
Stress Reduction

EFT can effectively reduce stress and anxiety levels, promoting a sense of calm and relaxation.

Emotional Release

By addressing and tapping on specific emotions, EFT helps individuals release and process unresolved emotional issues.

Pain Management

Many people experience relief from physical pain through EFT, as it can address the emotional components underlying physical discomfort.

Increased Self-Awareness

EFT encourages introspection and self-awareness, helping individuals gain insights into their thoughts, beliefs, and behaviours.

Improved Resilience

Regular practice of EFT can enhance emotional resilience, allowing individuals to cope more effectively with life's challenges.

Overcoming Limiting Beliefs

EFT can help release limiting beliefs that hold individuals back from reaching their full potential.
EFT for Trauma and PTSD
EFT has shown particular promise in treating trauma and post-traumatic stress disorder (PTSD). Trauma can create deep emotional imprints, leading to distressing symptoms and limiting beliefs. EFT's combination of physical tapping and focused mental attention can help individuals process and release traumatic memories, allowing for emotional healing and relief from PTSD symptoms.
Limitations and Precautions
While EFT is generally safe and non-invasive, it is essential to approach this practice with openness and willingness to explore emotional issues. Working with a trained EFT practitioner or mental health professional is advisable to ensure appropriate support and guidance for individuals with severe trauma or complex psychological conditions.
Conclusion
Emotional Freedom Technique (EFT) is a transformative healing modality that empowers individuals to address emotional, physical, and psychological challenges. By tapping into the body's energy system and acknowledging emotions, EFT allows for emotional release, stress reduction, and increased self-awareness. This powerful and versatile technique offers a pathway to emotional freedom, promoting healing and self-discovery.
Whether seeking relief from stress, overcoming limiting beliefs, or processing traumatic experiences, EFT can be a valuable tool in supporting holistic well-being. As individuals tap into the power of EFT, they open themselves to the possibility of a life filled with emotional balance, resilience, and authentic self-expression. Embrace the journey of self-discovery, and unlock the potential of the Emotional Freedom Technique to foster a sense of inner harmony and healing.