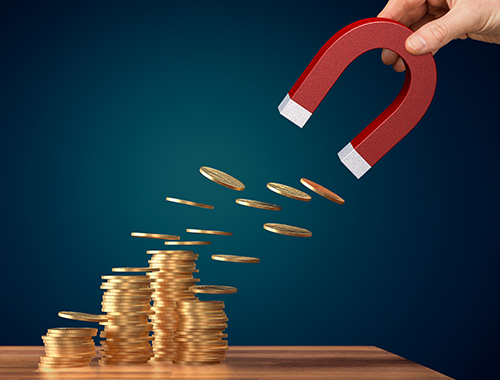 In our ever-changing and fast-paced world, financial stability and abundance have become essential goals for many individuals.
The desire to attract wealth and prosperity is universal, and people have sought various ways to achieve financial success throughout history. One such concept gaining popularity in recent years is "Money Magnetization," a mindset and manifestation technique centred around attracting abundance and becoming a magnet for wealth.
Book a Consultation
Understanding Money Magnetization
Money Magnetization is a term that embodies the idea of attracting wealth effortlessly, much like a magnet pulls metal objects towards it. At its core, Money Magnetization is rooted in the law of attraction, a belief that our thoughts and emotions can manifest our desires into reality.
The principles of Money Magnetization rest on the understanding that our beliefs and emotions around money play a pivotal role in shaping our financial reality. If we hold limiting beliefs about money or harbour negative emotions like fear, scarcity, or unworthiness, we are likely to repel opportunities for wealth and financial growth. On the other hand, cultivating a positive and abundant mindset can help us become open and receptive to financial abundance.
Shifting the Mindset
The first step in Money Magnetization is shifting our mindset from scarcity to abundance. This involves identifying and challenging any limiting beliefs or thought patterns related to money. Many individuals grow up with ingrained beliefs about money based on their upbringing, culture, or past experiences. These beliefs can act as barriers to financial success if left unexamined.
Common limiting beliefs about money include:
"Money is the root of all evil."
"I don't deserve to be wealthy."
"There's never enough money."
"I can't be successful in my career/business."
"I'll always be in debt."
We must practice conscious awareness and reframe our thoughts to shift these limiting beliefs. Affirmations, visualization, and daily positive reinforcement can help replace negative beliefs with empowering ones. For example, affirmations like "I am worthy of abundance and prosperity" or "I attract wealth with ease and joy" can rewire the subconscious mind for positive thinking.
Cultivating an Attitude of Gratitude
Gratitude is a potent tool in the practice of Money Magnetization. By expressing gratitude for our money and abundance, we signal our appreciation for the resources we receive in the universe. Gratitude helps shift focus from what we lack to what we already possess, creating an energetic shift that attracts more blessings into our lives.
Gratitude practices can include keeping a gratitude journal, where we jot down things we are grateful for each day. Additionally, taking a moment before bed or upon waking to express gratitude for the financial blessings in our lives can set the tone for a joyous and abundant day ahead.
Visualizing Financial Success
Visualization is a powerful tool used in Money Magnetization to manifest financial goals and dreams. By vividly imagining ourselves already living in a state of abundance, we send a powerful message to our subconscious mind, programming it to attract opportunities and resources that align with our visions.
Visualization exercises involve creating mental images of our desired financial reality. We see ourselves enjoying financial success and experiencing joy, security, and abundance. The more detailed and emotionally charged the visualization, the more effective it can be in manifesting our desires.
Taking Inspired Action
While Money Magnetization involves aligning our thoughts and emotions with abundance, it is essential to recognize that it is not a passive process. The law of attraction works in harmony with the law of action. Taking inspired action is a crucial step in materializing our financial goals.
Inspired action means taking steps towards our goals with enthusiasm and confidence. It involves pursuing opportunities that align with our passions and values, being open to new possibilities, and proactively achieving financial success.
Overcoming Resistance and Fear
As we embark on the journey of Money Magnetization, we may encounter resistance and fear. Past failures, financial struggles, or societal conditioning can create fear and scepticism about our ability to attract wealth. Acknowledging and releasing these fears is essential, understanding that they are rooted in our past experiences and do not define our future.
Practising self-compassion and self-forgiveness can help us release these limiting emotions and embrace a fresh perspective on money and abundance. Journaling, meditation, or seeking support from a coach or therapist can be beneficial in addressing and releasing fear-based patterns.
Money Magnetization and Generosity
An essential aspect of Money Magnetization is understanding the connection between generosity and abundance. The act of giving with an open heart can create a positive flow of energy, allowing more abundance to come into our lives. This does not necessarily mean giving large sums of money but rather cultivating a mindset of generosity, whether through