Crystal healing, an ancient and time-honoured practice, harnesses the innate energy of gemstones to promote healing, balance, and spiritual growth. Across cultures and civilisations, crystals have been revered for their beauty and believed to possess metaphysical properties that interact with the human energy field. The art of crystal healing involves using these gemstones in various ways to facilitate energy flow, release blockages, and promote well-being on physical, emotional, and spiritual levels.
Book a Consultation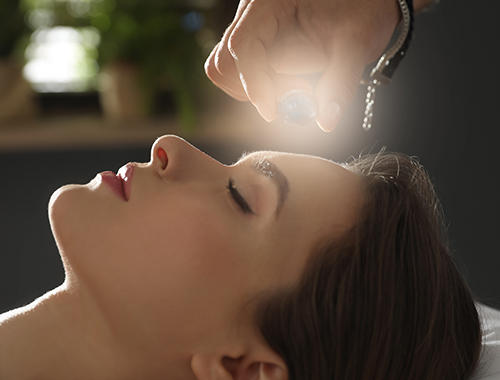 At the core of crystal healing lies the understanding that everything in the universe is made up of energy.
This universal life force, known as prana, chi, or ki, flows within and around us, contributing to our physical, emotional, and spiritual well-being. When this energy flow becomes imbalanced or blocked, it can lead to various ailments and challenges.
Crystals, with their unique molecular structures and vibrational frequencies, are believed to interact with the human energy system, helping to restore harmony and balance. Just as a tuning fork can resonate with another of the same frequency, crystals are thought to resonate with specific energies, amplifying or absorbing them to promote healing and transformation.
Book a Consultation
In the context of crystal healing, illness is a disease, the final manifestation of spiritual, environmental, physiological, psychological, emotional, mental, karmic, or ancestral imbalance or distress. Healing means bringing mind, body, spirit, and environment back into harmony, restoring the body's natural rhythm and equilibrium.
There is a great deal of research on the physical, emotional, and mental benefits of crystal healing. I also believe that "practising" crystal healing has helped me in my own life in many ways. These benefits include a more open channel for receiving intuitive information, better pain management in cases of chronic pain, and better management of fears and even phobias.
Benefits of Crystal Healing
Emotional Healing

Crystal healing can help release emotional blockages, past traumas, and negative thought patterns, promoting emotional healing and balance.

Stress Reduction

Many people find that working with crystals can reduce stress and anxiety, promoting a sense of calm and tranquillity.

Enhanced Intuition

Crystals can help individuals tap into their intuition and inner wisdom, leading to better decision-making and self-awareness.

Physical Well-Being

Some crystals are used for their healing properties, supporting the body's natural ability to heal and restore balance.

Spiritual Connection

Crystal healing can deepen one's spiritual connection, supporting inner growth and transformation.

Energy Clearing

Crystals are believed to clear and balance the energy field, removing stagnant or negative energies.
Integrating Crystal Healing into Daily Life
Incorporating crystal healing into daily life can be a profoundly enriching and empowering practice. Here are some ways to explore the world of crystal healing:
Create a Sacred Space

Create a sacred space in your home where you can place crystals, meditate, or practice self-healing techniques.

Wear Crystal Jewelry

Adorn yourself with crystal jewellery to carry the energy and intentions of specific gemstones throughout your day.

Meditate with Crystals

Meditate with crystals by holding them or placing them on your body to deepen your spiritual practice.

Keep Crystals in Your Environment

Place crystals around your living and workspaces to enhance energy and promote a harmonious environment.

Trust Your Intuition

Allow your intuition to guide you in choosing and working with crystals. Your inner wisdom will direct you to the stones that resonate with you.
Crystal healing is a profound and transformative practice that invites us to explore the hidden wisdom of the Earth's precious gems. Crystals offer a gentle yet potent pathway to holistic well-being, whether seeking emotional healing, stress reduction, or spiritual growth.
As we journey through the world of crystal healing, we tap into the ancient knowledge of our ancestors, reconnecting with the harmony and energy that flows within and around us. Embrace the beauty and power of these mesmerising mineral gifts, and allow crystal healing to guide you on a transformative path of healing, balance, and self-discovery. Open your heart and mind to the infinite possibilities within the radiant world of crystal healing.