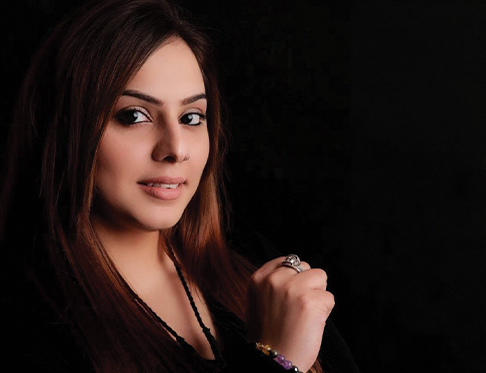 Dr Chandni Tugnait
Psychotherapist, Healer, Life Coach, and Business Coach
For the last 14 years, Dr Chandni Tugnait has stood as a shining beacon of success, known for her multifaceted expertise as a psychotherapist, healer, life coach, and business coach. Her journey of achievements and accolades in these diverse fields has been nothing short of remarkable, solidifying her place as a true luminary.
At Gateway of Healing, we honour and celebrate the uniqueness of each individual.
In 2022, CXO Outlook, a renowned business magazine, recognised Dr Chandni Tugnait as one of India's top ten influential businesswomen. This honour acknowledged her exceptional leadership and strategic acumen and highlighted her prowess as a business coach. Through her guidance and mentorship, she has helped countless individuals achieve their goals and navigate the complexities of the world with confidence and finesse.
Dr Chandni Tugnait has made significant strides in understanding human behaviour and emotional well-being as a psychotherapist. Her insights into the complexities of the human mind have allowed her to empower individuals to overcome personal challenges, traumas, and mental blocks. Through her healing touch, she has brought solace and transformation to the lives of many, fostering resilience and growth in the face of adversity.
Dr Chandni Tugnait's expertise as a life coach shines brightly in relationships and personal development. She is also a relationship expert at Tinder, India. Her unique ability to empathise and connect with people has made her a trusted guide for those seeking to enhance their relationships, build meaningful connections, and lead fulfilling lives. Through her coaching, she has inspired individuals to unlock their true potential and embrace their authenticity, thereby achieving personal fulfilment and happiness.
Beyond her roles as a psychotherapist, healer, life coach, and business coach, Dr Chandni Tugnait's influence extends to the media landscape. Her invaluable insights and expert opinions have found a platform in esteemed newspapers and she is a member of the experts panel for the Times of India and the Hindustan Times. She has enriched public discourse and elevated the importance of mental health and personal growth in society through her contributions.
Dr Chandni has also been featured in numerous media articles in leading newspapers and media sites such as, The Deccan Chronicle, The Times of India, The Statesman, The Hindu, The Asian Age,The Hindustan Times, Pinkvilla, HT Healthshots, Cosmopolitan, IANS, Miss Malini, India Today, Navbharat Times, The Daily Guardian, The Pioneer, The Indian Express, NDTV, and many more.
Dr Chandni Tugnait's journey of accomplishments is a testament to her unwavering dedication, profound knowledge, and compassionate approach to helping others. Her unwavering commitment to positively impacting people's lives has touched countless hearts and transformed numerous paths for the better. She has also been honoured as a jury member at the Miss E&E beauty Pageant in 2020 and jury member at MVN School, Faridabad in 2022.
As we look to the future, it is evident that Dr Chandni Tugnait's influence will continue to grow and inspire. Her pioneering work as a psychotherapist, healer, life coach, and business coach will undoubtedly pave the way for a brighter, more empowered generation. Aspiring individuals will continue to seek her guidance, embarking on a transformative journey under her expert care. Dr Chandni Tugnait's unwavering pursuit of excellence inspires us all, reminding us that through dedication, compassion, and expertise, we can truly make a difference in the lives of others.
BE MORE. DO MORE. HAVE MORE.